Futures Homes has been extended across the state of Victoria in a recent government announcement. https://lnkd.in/gnE4RghR
Fig.1
Our Future Homes competition Entry and subsequent design development borrowed heavily from the Peter Myers Thesis "Permanent Landscape". This idea gave our architectural ideas a firm Urban Design and Landscape Framework.  In essence his idea is that what is important in the middle ring suburbs is the "Permanent Landscape". The post war housing, outmoded and inefficient, too expensive to fix or buy and it should be replaced with much denser sustainable typologies and these should be built on the footprints of the original housing. In this way the landscape is retained and enabled to flourish, conjoining adjacent backyards into an urban forest.
We first tested the idea by reducing it to a graphic synthesis, which we overlaid onto 4 typical Melbourne Middle Ring blocks, from front fence to back fence. And then mirror imaged over the backyard fence. What we found was that it created a clear, ordered and legible reading of the landscape and building footprints. Sydney and Melbourne middle suburbs have much in common
The graphic was made up of 5 equal stripes. Stripe 1 the front garden, stripe 2+3 the housing footprint, Stripe 5 the back garden. Stripe 4 became a hybrid between garden and house.
Fig.2
The current planning policies allowing granny flats, dual occupancy, Villa housing and so on end up obliterating the landscape due to the prevalence of the car and the desire to house it on site. Backyards become car yards, landscape setbacks become driveways. This image reads like a malformed virus, where the orange is overtime easting the green landscape.
Fig.3
Our adoption of the Peter Myers "Permanent Landscape", created a matrix, which located the building footprint, leaving a clear and legible reading of the landscape. The challenge we face throughout design development was to create a consolidated footprint whereby all the car-parking was under the apartments. We got there in the end. If Future homes was to go to another level then the consolidated basement options becomes more viable still. Another step might be to test it out on 3 lots, not just 2.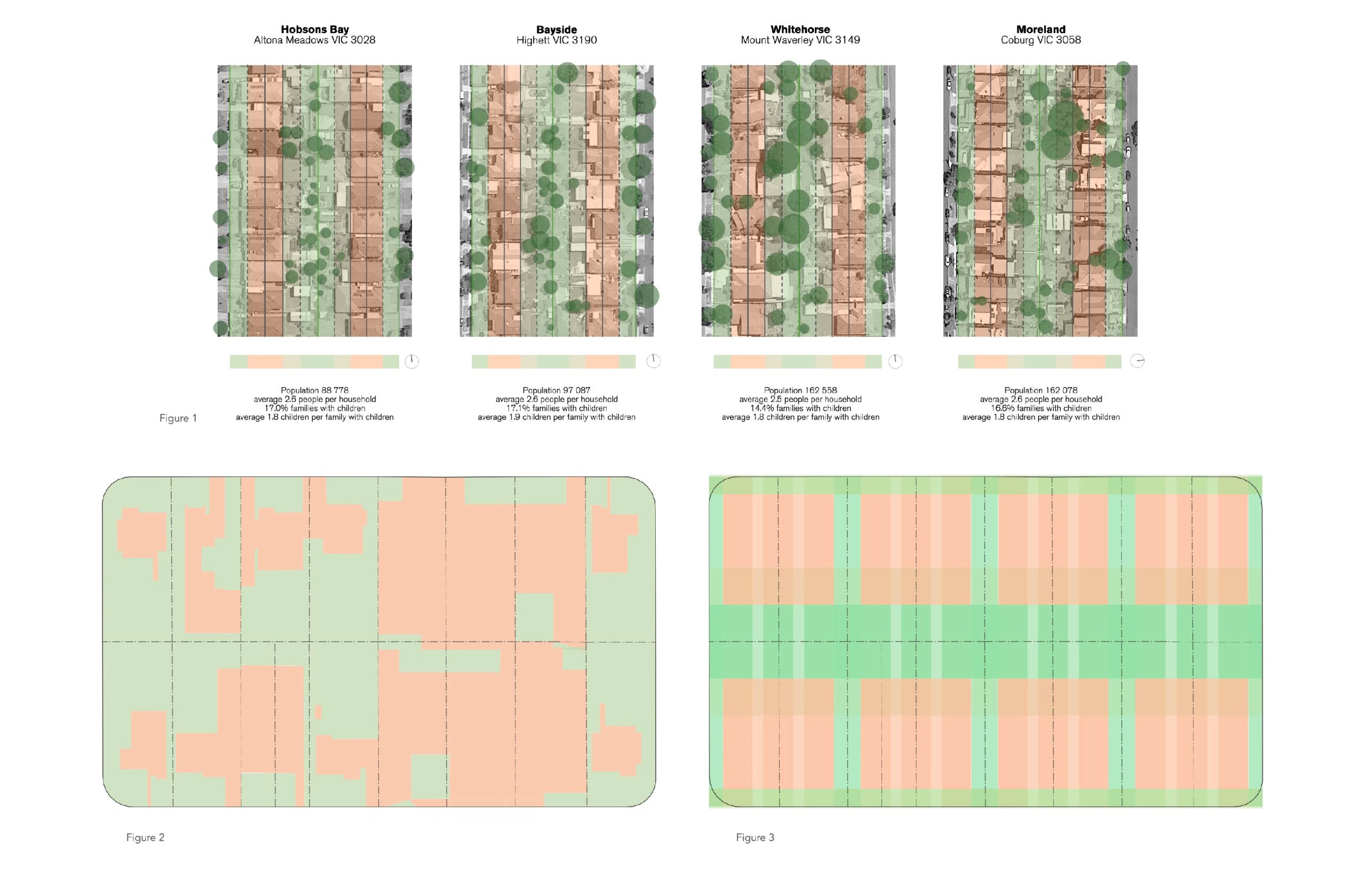 Our architecture concentrated on the creation of a consolidated built-form envelope, to maximise the deep soil and tree cover.  As well we want to balance the external wall and interior volume ratio. Having 1 building in 2 parts helped. The 2 form remained concentrated but the break between them where circulation and entries were located articulated the form and bought light and air into a breezeway like space.
As a result our project has the greatest yield and landscape of all the pattern book schemes.